The dialogue surrounding Wes Anderson's Moonrise Kingdom has mostly been centered on the children, and their sweet, awkward, and at times psychotic love story. No doubt this was the joyful center of a joyful movie. I grinned from ear to ear while watching them. Who doesn't like young love?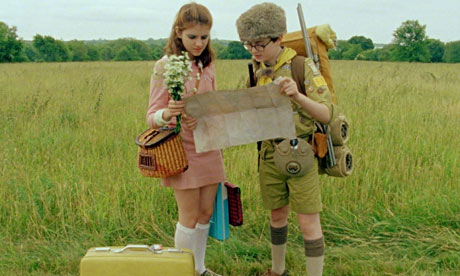 We spend all this time examining what the kids do or don't do, but honestly, they're just kids. Stupid, self absorbed kids. Moonrise Kingdom isn't really about them, it's about the adults. The kids don't need to learn lessons or change, they do fine fumbling towards love on their own. Love that lights their way toward self discovery. It's the adults who are lost, who have forgotten how to love one another and how to just fucking be together.
The temptation in, Moonrise Kingdom, is to lay blame on the inept institutions that shepard the kids in the movie; marriage, the Boy Scouts, the foster system. But here's the joke: the kids don't fail. They're quite successful in their plans to escape and build a nest to house their growing affection. The truth is they succeed not because of what adults did or didn't teach them but in spite of it. They tap into something far more important than institutional guidance: Natural inclination. Gut instinct. Groinal propulsion. And sweet, sweet love.
The relationships amongst the adult characters are far bigger failures. Failures only resolved and made successful when the adults grow the hell up and own up to their shortcomings as happens in the resolution of the central love triangle.
When the credits roll, we're reminded of that elusive little patch of tidal beach where anything is possible and love can be set far outside of the reach of those who can no longer recognize it and would squash it like a bug. It's a place we all want and need to find our way back to somehow… which is astounding since a bunch of dumbass kids got there with no problem at all.