It's Olivia's world we just float in it.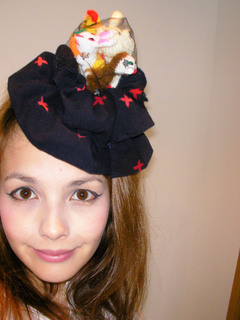 I love Olivia Lufkin. I love that there's a free spirit like her out there fighting the good fight against expectation. Just look at the critter hat she made! Adorable! Wearable? Why not!?
I was pleased as punch (has punch ever been pleased? Look into it) to find out O has a regularly updated BLOG.
It has not disappointed. For a girl with as many hangups and insecurities as O, she just throws it all out there. Weird shake recipes, underground art shows, you name it. She's like the eccentric art teacher I never had except she's cute and not covered in hair and failure.